Wrinkles are developed in the aging process due to decreasing skin elasticity and excessive muscle tension (mimic wrinkles like the "frown line" – the crinkles above your nose between your eyebrows) by the action of gravity and volume reduction (e.g. "nasobial folds" between corners of the mouth and nose).
There are different treatment options available depending on the cause and the part of the body. The option can also be combined for an even better result.
Since there are over 150 supplements on the market it is necessary and very important that your doctor deals critically with these products in order to avoid undesirably effects.
---
---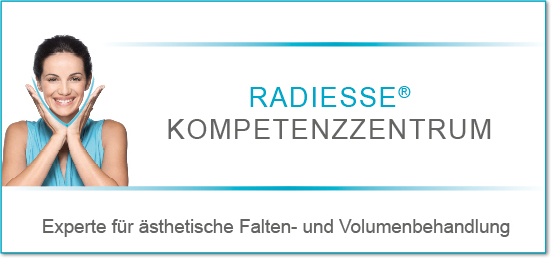 Radiesse® competence center
The practice of Plastic and Aesthetic Surgery by Dr. med Michaela Montanari was appointed Radiesse® competence center.
In a Radiesse® competence center you will find trained specialists who are very experienced in the use of Radiesse® and have an excellent expertise in aesthetic wrinkle and volume treatment.
For more information visit the website www.radiesse.de
---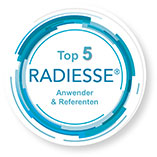 Top 5 user of Radiesse®"
On November 12th 2014 the practice of Dr. Montanari has been awarded with the Top 5 seal for Radiesse® users. Next to clinics and practices from Hamburg, Düsseldorf and Munich Dr. Montanari belongs to the 5 best clinics and practices for wrinkle and volume treatments with Radiesse® in Germany.
Radiesse® is a worldwide common evidence based filler. It finds application in treatment of deep wrinkles and volume resuscitation in the face for over 10 years now.
Dr. Montanari owes the recognition because of broad and excellent experience in aesthetic wrinkles and volume treatment. She is also a consultant in this field. So she shares her knowledge and valuable tips on regular workshops and lectures as well as congresses for medical colleagues throughout Germany.
---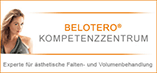 Belotero® competence center
Practice for Plastic and Aesthetic Surgery by Dr. med. Michaela Montanari was also appointed Belotero® competence center. In a Belotero® competence center particularly trained specialists can be found. They are very experienced in the use of Belotero®- hyaluronic acid fillers and have an excellent expertise in aesthetic wrinkles and volume treatment.
---
Personal aesthetic pass
We will hand out a personal aesthetic pass to you so that you are safe and reliably informed about your treatment. All used preparations will be documented with the corresponding batch number. We think it is very important that the confirmation of the used products is not only in our but also in your hands. Safety, quality and reliability are important to us! According to this we ask you to bring your pass to each treatment so we are able to update it.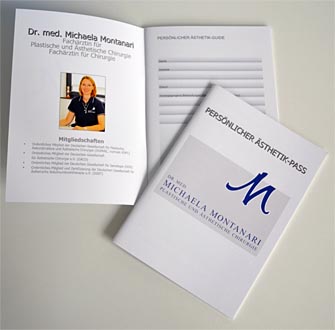 ---
Von Patienten empfohlen für
Faltenbehandlungen
01/2018

---
Blunt needles (atraumatic cannulas)
So far the injections were made at the tip with a sharp needle to get into the tissue layers. Recently a new technology with the use of blunt needles has been developed. This technique allows a special, soft tissue friendly application in the correct tissue layer. The advanced technology is especially used for increasing volume, the "liquid" facelift and the lip modeling.
---
Permanent filler
We do not use the so-called permanent filler at our practice. The risks and side effects are enormously high. From my varied experience with such complications I cannot recommend this treatment to any patient.