Calcium hydroxyapatite (Radiesse®)
Calcium hydroxyapatite (Radiesse®)is a synthetic mineral substance with which it is possible to compensate very deep wrinkles, restore youthful contours and volume defects. At the same time a new collagenous connective tissue is formed by activating the collagen synthesis in the skin. The mineral components are metabolized by the body. The result lasts longer since the human body does not have special enzymes for reduction.
Calcium hydroxyapatite is used in different body tissues for over 20 years. It got the official approval in the EU in 2004 and in 2006 in the US by the FDA (Food and Drug Administration).
Quick overview
Time of treatment
15-60 minutes
Anesthesia
Local anesthesia, cream
Follow-up treatment
Non
Restrictions
1-2 days
Calcium hydroxyapatite is particularly suitable for volume structure (e.g. from cheekbones, cheeks, chin, eyebrows), the filling of deep nasolabial and marionette lines, restoration of facial and body contours (lower jaw, chin, defects of nasal dorsum) and for the treatment on the back of the hand.
Using the so-called vector technique it is possible to achieve 3-dimensional rejuvenation of the face which is corresponding to a facelift with volume application.
Also large volume defects such as after a massive weight reduction or in HIV-lipoatrophy can be successfully treated in this way.
In order to perform a painless treatment of larger areas it is possible to prior use a numbing cream or local anesthesia.
---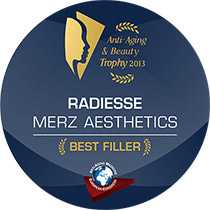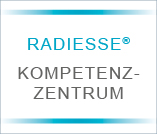 Radiesse® competence centre
The private practice for plastic and aesthetic surgery is distinguished as Radiesse® competence centre. A Radiesse® competence centre is characterized by highly experienced specialists, who are adept at treating Radiesse® and aesthetic wrinkle and volume treatment.
---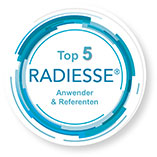 Top 5 user of Radiesse®
On November 12th 2014 the practice of Dr. Montanari has been awarded with the Top 5 seal for Radiesse® users. Next to clinics and practices from Hamburg, Düsseldorf and Munich Dr. Montanari belongs to the 5 best clinics and practices for wrinkle and volume treatments with Radiesse® in Germany.